Dental Implants - Olean, NY
High-Quality Restorations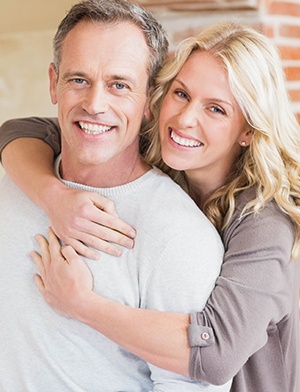 The prolonged loss of natural teeth can make it difficult to not only maintain oral health, but also enjoy favorite foods, chat with friends, and even smile with confidence. At the office of Dr. Daugherty, patients can discover multiple reconstructive options that will help them regain durable, attractive dental structure – and dental implants are right at the top of the list! Implants are unique because they rebuild every part of a natural tooth's anatomy, starting with the root beneath the gum line. The final result is seamlessly attractive, functional, and long-lasting.
Dr. Daugherty is proud to partner with several oral surgeons and periodontists in the Olean area for this transformative procedure, helping patients undergo both the surgical and restorative processes smoothly. Once your brand-new implant-retained crown, bridge, or denture from our Olean, NY practice is securely in place, it will be virtually impossible to distinguish from the natural teeth. Please contact us today if you would like to get started with a consultation, or if you have any questions.
What Happens During the Dental Implant Process?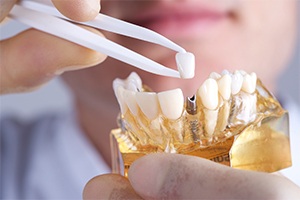 After we have determined that your circumstances are a good fit for dental implants, their surgical placement into the jawbone will be the first major step. This forms the foundation for your new tooth or teeth over a months-long process known as osseointegration, during which the natural tissue creates an enduring bond with the biocompatible implant(s). Once you have fully healed, it will be time to return to Dr. Daugherty's office so that he can start planning and designing your custom-made restorations. These restorations will always be high in quality and crafted from tooth-colored materials that offer a precise match to your existing tooth enamel. Once they are in place, your smile is complete again!
What are My Dental Implant Restoration Options?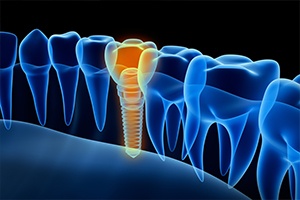 Our recommendation will depend on the number of teeth/implants that need restoration, as well as the patient's own personal preferences. Options include:
Implant-Retained Crowns – Crowns are ideal for restoring individual teeth, as their presence will not negatively affect the continuing health of natural teeth nearby.
Implant-Retained Bridges – If you have lost multiple teeth in a row, two implants can be placed on either side of the gap in order to support an implant-retained bridge.
Implant-Retained Dentures – Implant-retained dentures may be ideal for situations where a large amount of natural teeth have been lost. A small number of strategically placed implants can support a full prosthetic that is either fixed in place or designed to be removable by the patient.