Crowns & Bridges - Olean, NY
Rebuilding Smiles with Ease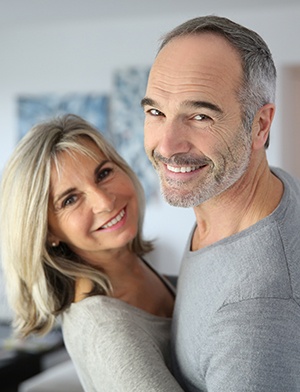 Putting a damaged smile back together is one of the most rewarding things Dr. Daugherty and our team does every day, and often, we use dental crowns and bridges to do it. These are two of the most tried and true treatments in all of dentistry, and whether you have a broken, decayed, or even missing tooth, they can help you smile with confidence once again.
What is a dental crown?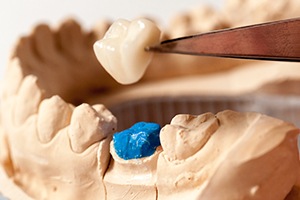 A dental crown gets its name from the fact that it simply sits on top of a natural tooth. It is a tooth-shaped cap that we can use to:
Repair broken teeth
Fix large cavities
Hold a weakened tooth together
Cosmetically enhance permanently stained/misshapen teeth
The goal for a crown is to not only give a damaged tooth its strength back, but its original appearance as well. To do this, it can be made of a variety of durable materials including metal alloys and porcelain, and every crown is personally designed by Dr. Daugherty to seamlessly blend into a patient's smile. Most of the time, a patient can have a tooth repaired with one in as little as two visits.
What is a dental bridge?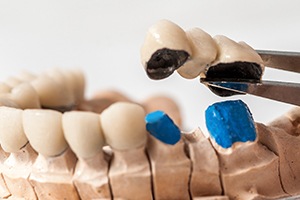 A dental bridge is one of the easiest and most effective ways we can use to replace a single missing tooth or a few in a row. After placing dental crowns on both of the teeth surrounding the gap in a patient's smile, we will bond them directly to prosthetic teeth to close it. This not only helps with the appearance of the smile, but it also evens out the bite and prevents the remaining teeth from shifting out of place (which happens often after tooth loss). Just like crowns, Dr. Daugherty can give you a custom-made bridge in as little as two appointments.
Have a few teeth in need of repair? Replacing? We can help you do it with crowns and bridges designed just for you, so contact us today to get started.